Airbnb Hotel and Vacation Rental Listing Data Scraping Services
With our professionally managed web data scraping solutions, you will be free of all the complicated procedures associated with web scraping. You only need to provide us with your specifications, and we will do the rest! In seconds, you can scrape entire cities or extract data from hundreds of Airbnb rentals. For free, you can get host information, addresses, locations, prices, availability, stars, reviews, images, and host/guest details. Scraped data can be downloaded in a variety of formats, including HTML, JSON, and Excel.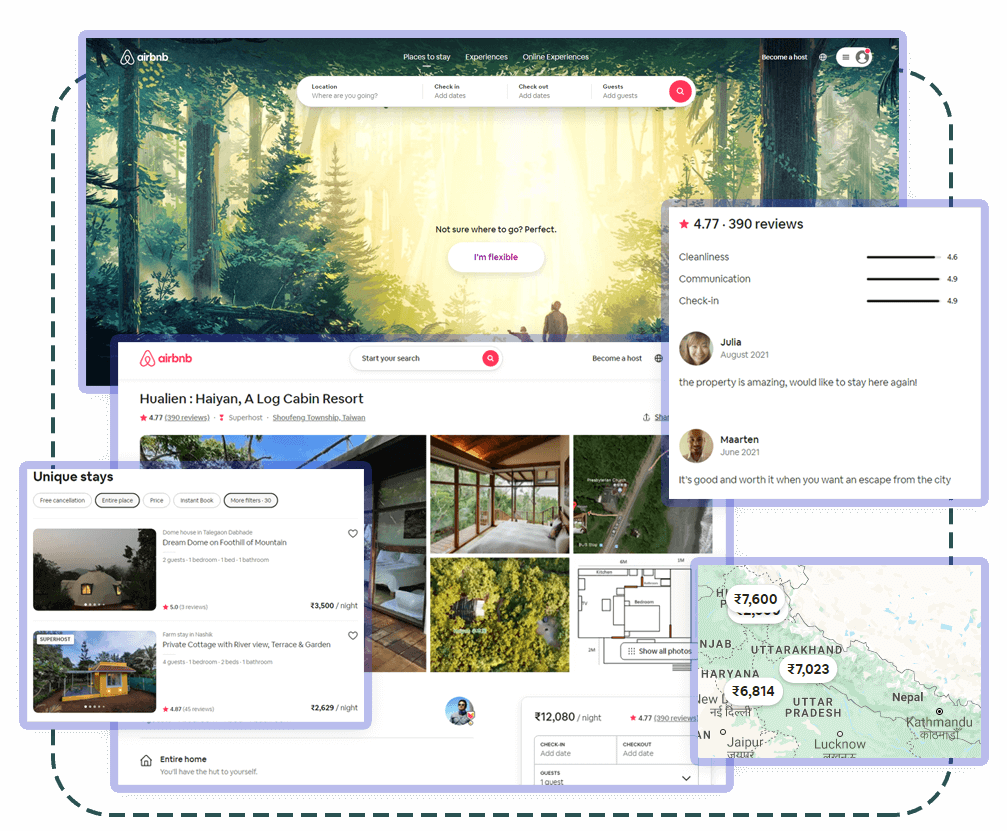 Benefits Of Airbnb Scraping
Get all Airbnb listings in one place, including rating, price, number of guests, location information, indicated address, URL, and reviews.
All Airbnb reviews from a single listing can be extracted, including initial comments, responses, name, rating, language, author ID, posting time, and much more.
Get Airbnb prices in different currencies.
specify the price range, arrival and departure dates
scrape listings individually or by pasting an external link containing a list of URLs to scrape (CSV, Google Sheets).
How Do You Get Data From Airbnb?
Although there are several approaches to scraping data from Airbnb, the best option for recurring and large-scale requirements is to use a Data as a Service (DaaS) provider. Because DaaS service providers have the necessary infrastructure, technical expertise, and scalability benefits, they can provide you with all of the necessary data. The cost may also be less than that of any in-home crawling setup. Establishing the 'right' pricing is one of the most important aspects of making the most of your revenue in the travel industry. Because the travel industry is already using pricing intelligence to optimise their prices for determined profits, scraping data from Airbnb allows companies to compete on a higher level. We offer the Best Airbnb Web Data Scraping Services to Scrape or Extract Airbnb Hotel and Vacation Rental Listing Data at Propertyscrapte Scraping.
SCRAPE PROPERTY DATA FROM AIRBNB LISTINGS
Date accessibility and pricing for various Airbnb property listings are scraped. You can scrape all of the home listings for larger cities, as well as find all of the listing data from publicly available Airbnb data. Propertyscraping Services extracts the following data fields, which are listed below: –
Available for Check-out
Available for Check-in
Currency
Calendar Date
Listing ID
Domain
Amenities
Minimum Nights
Maximum Nights
Pricing
SCRAPING AIRBNB DATA RESULT IN
With our professionally managed web data scraping solutions, you will be free of all the complicated procedures associated with web scraping. You only need to provide us with your specifications, and we will do the rest! Estimate ownership rates across geographic regions Predict rental yields in order to compare types of property and find the best yield. Scrape renting prices from opposing properties to price your property wisely